Kandla Port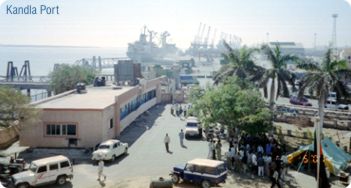 Kandla Port, a national port, is one of the eleven most important ports of India. This port is situated on Kandla stream. The first investigation of this stream was undertaken by the British Royal India Navy in 1851 and a detailed survey done in 1922. This port is developed by Joint project of Maharao Shree Khengarji-III and British Government in the 19th century. Standard dry cargo treatment capacity of Kandla Port is 24,000 metric tons per day. The port is under Ministry of Commerce and is managed by a Port Trust with a Chairman as its head. The Kandla Port Trust is run by a board of trustees. There is an administrator - representative of the ministry of Commerce - appointed for the management a free trade zone known as the Kandla Free Trade Zone placed near the port where hundreds of small and international companies are sited also. Owing to fast progress of Kandla port close city like Gandhidham also developed fast.
Mandvi Port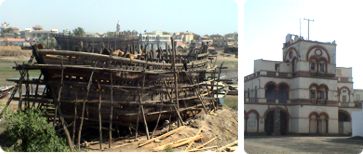 Mandvi Port is developed by Maharao Shree Khengarji-I in 1580 A.D. The kings of Kutch called the commercial people for development of Mandvi. According to Millburn (a writer), Mandvi is one of the great port of Kutch. There is a large amount of ships in Mandvi. Mandvi Port has its individual history. This port is not in much progress now but many boats and ships are made here nowadays. Today, Mandvi is known for its port and sea.
Mundra Port
Mundra Port is situated almost 10 Kms far from Mundra city. There are two ports: (1) Old Port (2) Adani Port. These ports are used the whole year. Today, these ports have much traffic of many large ships and steamers of world. These ports have a very bright future. Many people come from other states to work here. Mundra is also known for dry date 'Kharek'. 'Kharek; is exported to the other states.
Jakhau Port
Jakhau Port is also one of the oldest ports of Kutch. Today, this port is only used for fisher men. Jakhau Port has its own importance. This is a very beautiful Port of Kutch. There is a centre for coastguard and water department of B.S.F. in Jakhau Port.