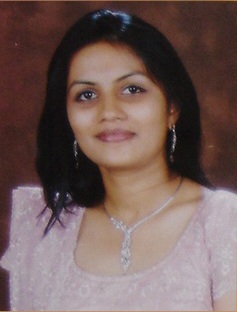 Kinjal Vilesh Tokershi Velji Gala (Village Sadau)

Two international students from UCEs Birmingham Institute of Art and Design (BIAD) entered the International Student Awards 2005, a prestigious awards scheme run by the British Council - the UK's international organisation for educational opportunities and cultural relations
Kinjal Gala, a postgraduate interior design student and Amera Mussa's, an undergraduate Illustration student, submitted their inspiring stories of student life in Birmingham explaining how they had been making the most of their time since arriving in the UK. Their "letters home" were among those shortlisted for the final judging phase. The twelve finalists attended an awards ceremony in London .
The Awards, now in their third year, recognise international students who can demonstrate how experiences and skills gained in the UK are enhancing personal development, boosting career prospects and helping them to achieve ambitions. The judges will be looking for evidence of enthusiastic and proactive take-up of opportunities, whether through academic, business, professional or social connections. More than 2,300 students entered this year's Awards, representing 142 nationalities.
Kinjal has settled into life in Birmingham, where she shares a house with people of many nationalities – one of whom produced a short documentary on Kinjal's vegetarianism, which was what she wrote about in her 'letter home'.
Kinjal said: "Coming to UCE to study was for two reasons, firstly the course itself, which is very much experimental and creative, and it was an opportunity to learn and study with people from different backgrounds around the world. Secondly, UCE has helped me to get an international degree, which is accepted and recognised all over the world. This is definitely going to help me a lot with an international degree added to my office card."
Andrew Harbert course director said: "Kinjal is of a sunny disposition and is always prepared to laugh, even at herself, when the going gets tough. Always very organised, creative and methodical, her character shines through every aspect of her work".