Dear Asanjokutch Members,
There is a saying, which says: "Shoot for the moon. Even if you miss, you'll land among the stars"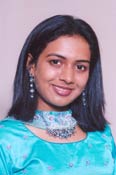 That's what exactly Neha Rambhia has done and which has made we all of us proud of her. Neha Rambhia has won a Bronze medal at International Physics Olympiad (IPHO) held at Singapore. As per the information sent to us by Neha's Father Mr. Jayeshbhai, Neha is the first girl to represent India at IPHO. In experiment section of exam she overtook even Gold medal winners.

Nearly 400 students from 85 countries had participated in this event. India is ranked 8th with 2 gold & 3 bronze medals from this event, China was first & Indonesia was 2nd. All 5 Students from India have taken IIT either in computer or electrical branches.

USA spent over 0.5 Million US$ to prepare their team & they were 3rd. In Indonesia they have gifted a house to the medal winners. In Indonesia and China medal winners get admission into any institute in the country in the stream of their choice.
But in India no such encouragement is given & hence India is now lagging behind in science & technology as compared to smaller Asian countries. The only recognition students have got so far is from Infosys, they have announced an award of Rs. 10000/- to all medal winners at Olympiad.

Neha has secured an admission at IIT, Bombay in Electrical engineering with masters in Microelectronics. She is also the first Kutchhi girl to enter IIT. She topped the Girls in western zone in IIT JEE.
As we all know that, "There are three types of people in this world: those who make things happen, those who watch things happen and those who wonder what happened. We all have a choice. You can decide which type of person you want to be, but Neha has always chosen to be in the first group"
And finally "The world needs dreamers and the world needs doers. But above all, the world needs dreamers like Neha who do."
We at Asanjokutch.com congratulate Neha for her stupendous achievement and on behalf of the all the members and the team of asanjokutch.com we wish her great success in her lif e.
To send your good wishes to Neha and her Family click here http://www.asanjokutch.com/forum/forum_posts.asp?TID=27&PN=1&TPN=1
Best Regards
Manesh Karani
www.asanjokutch.com