It is said that Ahirs are the children of Lord Krishna. They lived as the shepherds in Gokul Mathura thousand years ago. Afterwards, they spread throughout the north and north-west sides of India. There are four main castes of Ahirs in Kutch: Prantharia, Mochhaya, Baureecha and Sorathia. About three lakhs Ahirs of the 18 million populations of Ahirs in India live in Kutch.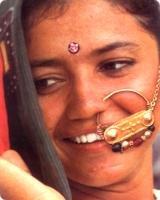 Prantharia Ahirs lived in eastern Kutch and they founded a village named 'Vrajvani'. Mochhaya and Baureecha Ahirs lived in Chorad area (Satalpur). Prantharia Ahirs live in Chobari, Ranavav, Amaraper, Ratenper, Khengarper, Lodai, Dhrang, Dhori, Sumerasar, Vang, Dador, Kuneria, Nokhania, Lakhaper and Sataper. Machhaya Ahirs live in Padhar, Vagura, Tapper, Padana and Bhuvad. Sorathia Ahirs live in Anjar, Nagor and Syinai. Baureecha Ahirs live in Anjar, Meghper, Bourichi, Mithirohar, Bharapar Veera, Modsar, Khokhara, Kaniyabe, Jomkha, Kera and Baladia.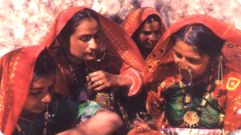 Ahirs are principally farmers who once sold milk and ghee but they have changed their business to transfer because of irregularity of rain in Kutch.
Young Ahir women wear most complicated costumes. They normally wear gathered skirts of red, green, blue, orange or brown tied and dyed cotton which are attached and decorated with charming embroidery work. Middle young women wear 'odhanis' of red and black lined with overstated border and the old women wear simple black cotton tube skirts.
Ahirs worship Baba Ramdevpir. The parents of the boys give gifts to the parents of the girls when the engagement is completed. Then, the brides' family and associates give a lot of gifts during the marriage. Machhaya Ahirs and Baureecha Ahirs give sets of clothes decorated with mirror work embroidery. The brides' relatives also give at least one silver necklace, one or two gold necklaces, ear-rings, nose pins, anklets and bracelets.