In the beginning, Jats lived in 'Halaf' area in Iran. About 500 years ago, these shepherds called Jats abroaded from Halaf to Sindh and Kutch in search of new grazing lands. There are three types of Jats in Kutch: Dhanetah Jats, Fakirani Jats and Garasia Jats.
Jats usually live in tents or they stay in camps. Dhanetahs live in north-west side of Kutch. Fakiranis live in the muddy coastal regions of Lakhpat and Abdasa Talukas. Garasias live in Lakhpat Taluka. Jats live mostly in the dried Banni area.
Jat men commonly wear 'khamish' and 'lungi' and women wear black cloths called 'gaga'. Jat men normally look after farm animals and women work in fields. They also sell ghee. Jats always let their children to marry with the children of the Hajis. Jat women plan and create beautiful and manual embroidery. The power of Jat embroidery approaches mostly from the closely stitched pattern that completely plasters the cloth. Jat women are busy in house work, preparing fodder for the cattle in addition preparing food for their men. Today, Jat women are famous for their microscopic mirror work embroidery that has found a prepared marketplace.
Dhanetahs have the largest population of Jats in Kutch. Dhanetahs go for travelling to Mecca and Medina. Dhanetahs are also known as 'Hajis'. Women of Dhanetah Jats are known by their nose-rings and black cotton tied to the hair. The blouse of a Jat woman is very long and often reaches down to her knees.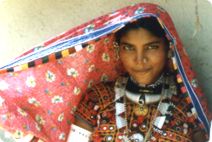 All the time Fakiranis admire different heroes and Goddesses. All Jats are Sunni Muslims. A jat can not marry outside of their group of people. Jats of Kutch are well-known for their tough and powerfully built herds of cattle.
Although Jats are very poor, they give sufficient gifts as offering to their daughters at the time of their marriage. Jats are normally found in their groups. The milk of the cattle is poured into the metal canes and it is taken to the positive milk centres in the nearest town.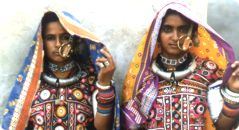 Garasias are the farmers formerly stayed in Lakhpat. Garasias worship Goddess Jeejamah. "Chanri" is the most important and demanding article provided as property. Garasia Jats wear a long skirt. The upper arms of Garasia Jats are covered with plastic bangles.
Fakirani Jats became holy men as they committed to studying the Quran, the holy book of Islam. Jats were pressured by the government to stay and found themselves on the most productive land. They began selling their embroidery only fifteen years ago in arrange to survive droughts.
13 years ago, two Jat villages joined Kutch Mahila Vikas Sangathan (KMVS) and found a co-operative association in which they educated the importance of their terrific work and how to advertise it.